Description
The WackO Products CA200 is an air conditioner silencer kit that allows you to run your A/C unit without all the noise. Never try listening to your TV over your air conditioner or being kept awake by the unbearable noise ever again.
• Designed to fit a Coleman-Mach, an Airxcel brand, air conditioner with a ducted system and wall thermostat. (If you use a Dometic A/C model, see part #DA100 or GE A/C model, see part #GA300)
• Installs easily in under 15 minutes with a screwdriver, no drilling required.
• Recycled cotton duct liner gives superior acoustic and thermal performance.
• Noise reduction ranges from 3-6 decibels (dB).
• Electrostatic air filter helps eliminate dust, lint, pollen, and other pollutants in the air.
• The air filter is a 4 layer weave design, is nonporous, mildew resistant, and does not degrade over time.
• The filter can easily be cleaned with a vacuum cleaner, or optionally removed and washed.
• Clean the outer casing with a damp cloth or gentle cleanser.
Included in the Kit: Base, white cover, filter, and mounting screws with foil tape.
• Dimensions: 17″ x 17″ x 2.25″.  (if you need to cover more area look at the CT204 trim)
• Weight: 2.93 lbs.
If your inside ceiling assembly looks like this,
then the CA200 should work for you.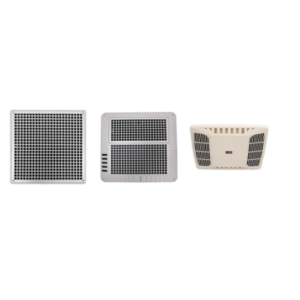 Here is a helpful installation video: